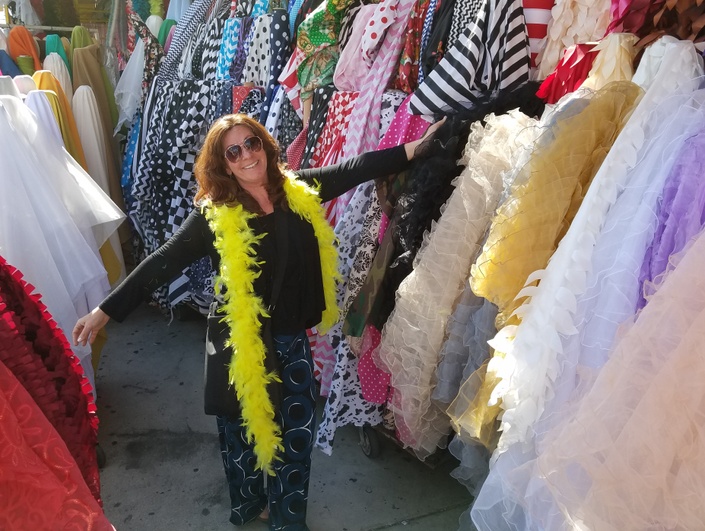 Learn to Sew Fashion in 15 minutes a day!
Everyday effort to learn fashion sewing!
Want to learn fashion sewing in an easy to follow program from a fashion/costume designer working in the industry for over 30 years?
This course will take you step by step with instructional videos to guide you thru the fundamentals of sewing the professional way.
With the goal of 15 minutes a day and everyday effort to learn the fundamentals you can then breeze thru your fashion sewing projects and start making the fashion you are inspired to create.
This class is great for:
* Beginners and confident beginners
* The self-taught (you may have missed some important foundation skills)
* Going into a career in fashion design and want to build a strong foundation.
* If you're on the struggle bus of sewing.
Have you ever noticed when a house is being built is seems to take so long for the foundation to be done? And then when the build comes it goes lighting fast? That's because extra time is required to get it right. If the foundation is not strong, all the rest will not follow. Once the foundation is laid than the real design can bloom.
There is so much to learn in sewing, many different tools, techniques and details. Doing one thing affects the next thing…
There are so many different types of fabrics, trims and findings. On top of that, we humans come in so many different shapes and sizes.
In my 10+ years of teaching beginner sewers. Kids and adults, I see many who are in a hurry to get to the end result.They have a goal and a vision (which is great!) and just want to get to that and then realizing that sewing is not as simple as they thought. They find there is a lot more to it than they thought.
Think about it, so many different shapes that are connected into other odd shapes. Garment construction is like a puzzle. The struggle comes with seeing others who make it look so easy. Similar to seeing a guitarist or pianist play a beautiful song, they breeze thru it and move their hands along the strings and keys so smoothly.They make is look so easy. But what you don't see, is the years and years of practice that is behind that amazing breezy movement.
I know when my students see me sew, they are seeing someone who has been handling fabrics for a long time, it is second nature to me. As it will be with anyone who works with the tools continually. With every project completed, things get easier, lessons get learned and you just get better at handling it all.
So, if you genuinely want to learn sewing and do it the right way, slow yourself down and lay the foundation.
I have been teaching this program at my studio for over 10 years and have seen some amazing talent come from it.
The trick is, it's in the continual improvement and everyday effort,(as with everything that is worthwhile).
Doing just a little everyday will propel you forward (even reading over a pattern or studying some sewing books for a bit count!)
So if your ready to begin with a strong foundation, lets get started!
Your Instructor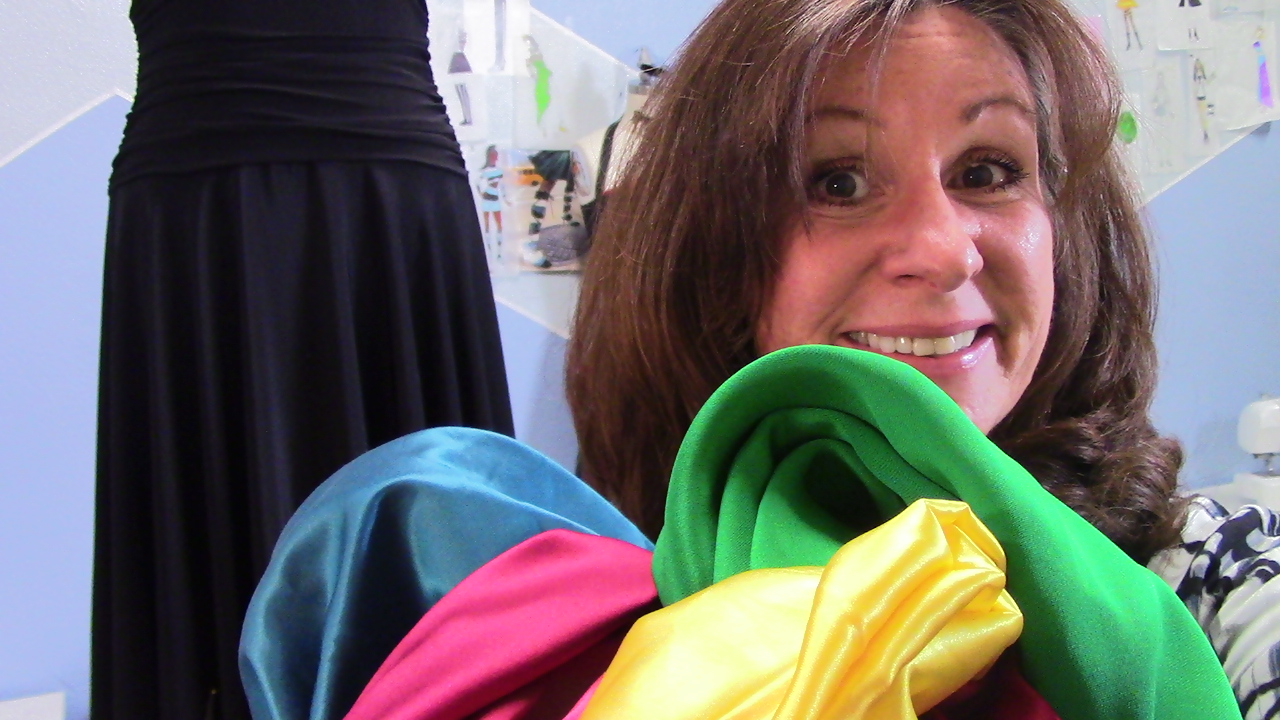 Hello, I am Shawnelle.
I have been a costume designer based out of Los Angeles for the past 20 years, designing feature films, specializing in comedies!
Before costume designing I was a fashion designer creating gowns for the Hollywood crowd in my Pacific Palisades, CA studio. My whole career has been around fashion and sewing.
About 10 years ago I moved to the east coast to be closer to the migrating film productions. I landed in a beautiful lake town - Mooresville, NC. A few months in, I started a school called Future Fashion Designers. A school designed for kids, to teach sewing and all about fashion design. My plan was to do this for a year or two but it ended up being so much fun working with kids that we are still here and growing everyday.
I then found that just as many teens and adults wanted to learn to sew and study fashion :) Teaching all different age groups has been so eye opening and rewarding. It has been over 10 years now and I must have taught 1000's of people to sew! Teaching has been a great way to improve my skills as well :)
I also have a YouTube channel where I do some up-cycling projects. It's called "Sew Shawnelle." under the Future Fashion Designers channel. And check out the "SewBit's section for quick lessons in sewing techniques.

I hope you enjoy my mix of classes and would love to hear from you!
Stay tuned for more classes that are in the works!
Shawnelle
www.FutureFashionDesigners.com
www.CampSewSocial.com fashion sewing retreats
Testimonials
The sewing classes at the Future Fashion Designers studio in Mooresville are awesome! My daughter started in the beginner sewing classes several years ago and has advanced through classes and camps. She has made so many things - skirts, a rain coat, dresses, dog clothes, even a satin bomber jacket and poodle skirt that she turned into a Halloween costume! Through the knowledge she has learned with Shawnelle's guidance and patience, I believe she can now sew almost anything!
We are blessed that Shawnelle has opened this studio! She has combined her years of industry experience, knowledge and her wonderful gift of teaching to help everyone learn to sew. Shawnelle starts at the beginning and teaches the key basics to grow then builds on that knowledge advancing through projects.
If you, a friend or family member is interested in sewing, I highly recommend classes at Future Fashion Designers!
Becky M, Mooresville NC
"What a blessing it is to have such a wonderful place for kids and teens to go. My daughter has a love of fashion and sewing and a parent who can't sew!! My daughter has been going for sewing and design classes for two years now. She impresses me daily with her sewing abilities and talent. I give Shawnelle all the credit for lighting the sewing torch in my daughter. It's great to see kids learn a craft that is dwindling away. My daughters dream is to one day be a fashion designer. With Shawnelle's help she may obtain that dream.
Love this place!!!
Donna M.
My daughter has learned all about sewing and has made so many things in class. She started with summer camps at the age of 9 and has gone on to make dresses, tops and even a raincoat. Shawnelle takes the students from the very beginning and guides them to learn new steps until it all makes sense! She not only is an awesome instructor, but also so much fun! My daughter loves her!
Karin B, Mooresville NC
I have been taking class at FFD for over a year now starting with the mini fashion designer classes and then the beginner fashion sewing class. My goal is to become a fashion designer and Shawnelle has been a great mentor and advisor . Helping me to gain new skills, learning to be creative and to get a jump start on my studies for design school that I will be starting in the fall.
Sydney M, Concord, NC
I have taken several sewing classes at Future Fashion Designers and appreciated the fact that Shawnelle was able to give the personalized attention that each student needed to complete the various projects - and the class attendees ranged in age from pre-teen to adult, so no easy task! She is very knowledgeable, and very patient with beginners, helping everyone to learn (or re-learn) the basics before learning more advanced sewing techniques.
Angela R, Mooresville, NC

Course Curriculum
Week 1 - The Tools We Use
Available in days
days after you enroll
Week 2 - The Basics
Available in days
days after you enroll
Week 3 - Fabric is our medium.
Available in days
days after you enroll
Frequently Asked Questions
When does the course start and finish?
The course starts now and never ends! It is a completely self-paced online course - you decide when you start and when you finish.
How long do I have access to the course?
How does lifetime access sound? After enrolling, you have unlimited access to this course for as long as you like - across any and all devices you own.
What if I am unhappy with the course?
We would never want you to be unhappy! If you are unsatisfied with your purchase, contact us in the first 30 days and we will give you a full refund.
Starting with the basics and really learning the fundamentals is the best way to start your new skills. Be patient with yourself and focus on understanding the concepts of putting fabric pieces together. And remember, the sewing machine is just a tool to sew seams. The art of sewing is in working with fabrics and patterns to build a garment.
This class is published in 1 week installments, go thru all the lessons in each week, practicing each step. Each week is designed to teach you one of the basic concepts in sewing before moving onto the next. Helping you build on each concept.
Please email us with any questions about our classes. [email protected]